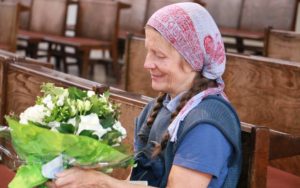 Life is so hard, but I can come to this concert, and see the humanity, and feel the unity, and can go on! We all connect together as people – to praise and to FEEL. I will never forget it! 
An attendee of the 2015 Salzburg Jubilate Mozart Choral Festival
Salzburg is a storybook city.  The picturesque skyline, overseen by a 1,000-year old hillside fortress, dominated by castles, palaces, and mountains, carries one away to a Disney-like fantasy world.  This dreamy environment is enhanced when hearing the soft sounds of a Mozart string quartet seemingly playing from all around you while walking down the Getreidegasse, Salzburg's main shopping street.
As much as Mozart famously disliked his birth city, Salzburg has embraced him as its foremost identity to the world. Everywhere one turns is a reminder of the composer's presence, whether it's his birthplace and museum – located on the Getreidegasse – the many little outlets offering up endless, tantalizingly delicious Mozart chocolate balls (they're everywhere!), the Mozartplatz & Mozart Monument, or the countless charming Mozart impersonators walking the streets playing violin and entertaining the tourists.
All of this makes Salzburg the ideal setting for Jubilate Mozart! The choral festival had its beginning in 2006, to align with the 250th anniversary of Mozart's birth, and the turnout was tremendous – so much so that it expanded into three separate performances, each given to sold-out audiences.
The 2017 Salzburg Choral Festival is set to take place June 28 – July 2 of that year. As always, it will feature a large chorus consisting of mixed voice choirs from across North America. Returning to conduct the rehearsals and concert are world-renowned conductors Dr. Jo-Michael Scheibe and Professor János Czifra – Music Director of the Salzburger Dom. The concert will feature numerous choral works conducted by Dr. Scheibe, opening with Ola Gjeilo's haunting Sacred Heart, from his three-work set of Ubi Caritas.
The choral festival program includes another gorgeous song, Stephen Paulus' The Road Home, featuring a simple yet striking melody taken from a 19th-century folk song.
For anyone affiliated with a choir that may be interested in participation in the 2017 festival, please complete the form below to receive more information.
[gravityform id="35″ title="false" description="false"]