Italy Catholic Choral Pilgrimages
What better way to learn the teachings of your religion than by visiting the sites where the religion began and was nurtured? Since Emperor Constantine recognized the Christian religion, pilgrims have traveled to Rome for prayer at the tombs of Peter and Paul.
Rome remains the spiritual center of Christian pilgrims around the world.  The very beginnings of our great tradition of choral music can be traced directly to Rome with the Schola Cantorum established by Pope St. Gregory the Great at the Basilica of St. John Lateran in the sixth century. The magnificent treasury of that tradition makes touring for Roman Catholic choirs a spiritual pilgrimage even more than a cultural journey.
These pilgrimage tours combine sites associated with the earliest years of Christianity with opportunities to sing in many basilicas, cathedrals, churches and pilgrimage locales that venerate such apostles and saints as St. Peter, St. Paul, St. Mark, St. Francis of Assisi, St. Clare, Blessed Fra Angelico and so many more.
Think of the spiritual encounters that await you and the growth your choir will experience as you rehearse and prepare to sing God's praises in some of the greatest venues on earth! Imagine your choir singing to the glory of God in a liturgy at St. Peter's Basilica in the Vatican, in Saint Mark's Cathedral in Venice, in the Basilica of St. Francis in Assisi, or countless other magnificent and historic places of worship from which to choose. Then imagine visiting the Christian catacombs near Rome. Testimonial accounts from our travelers tell us that these experiences are numbered among the greatest moments in the lives of many choral musicians on pilgrimage.
Testimonials
Noel Fisico, St. Thomas More Children's Choir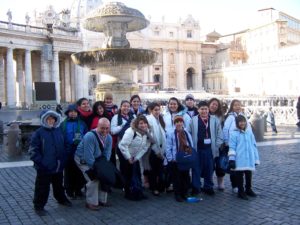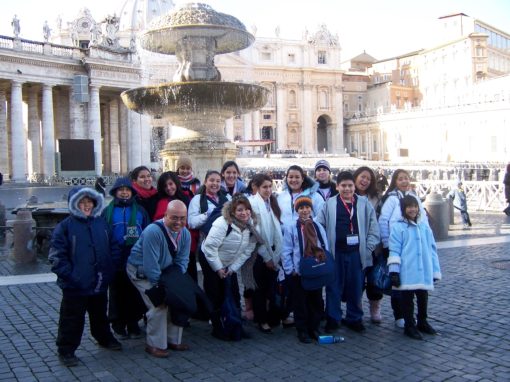 Thank you so much for taking care of our travel needs. We had a marvelous time in Rome. We were particularly impressed by the tour manager and the bus driver. They were very nice and went all out to help us in every possible way. The places we went to for the tour were excellent. We never thought we would be able to see a lot of places in such a short week. People from our group could not help but say, "this is just too much art to take in, in one day!" Again, thank you so much for such a marvelous time!
Michelle Hiscavich, Newtown High School Orchestra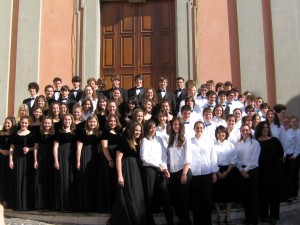 The concerts were spectacular! The concert sites were so wonderful. We had great audiences, and we saw a lot of advertising. We had people meet us at each site. I couldn't be more pleased with that. That was why we were there. I can't believe the things we saw. I keep looking at my pictures and tell myself that I was really standing there in Venice or in Rome. It was all pretty amazing.
Michael Gorman, Schola Cantorum of Sacred Heart Church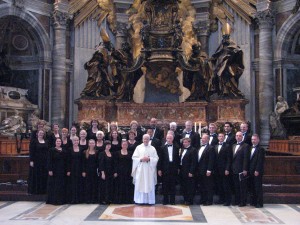 Music Celebrations provided us with many opportunities we wish we might have had with our former tour company. Concert audiences were 20 times what we had 4 years ago in England, and the venues in Italy were magnificent! Travel arrangements came off without a hitch, except when we had to wait for our own fellow travelers. Our hotels were fine and the staffs at all three were excellent. Thank you for a wonderful tour, and I hope that we get to work with you again soon.
Michael Bates, University of Arkansas at Pine Bluff Vesper Choir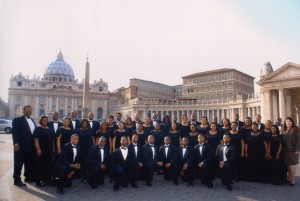 The whole thing went great. The concerts went extremely well. (In Rome) we had some folks who saw the advertising and came that night to see us which was a pleasant surprise. Very enthusiastic audiences, several encores. I got an email from someone in Wilmington VA who had been in Italy and one of our students invited him to our concert and he was so pleased he said if he was ever in our area he would stop in for an encore performance! (Our tour manager) was magnificent! She was GREAT! She always consulted with me. She really seemed to have our interests at heart. (She was) the best ever tour manager!! It was a great trip. A GREAT TRIP!!
John Koshak, Orange County Youth Symphony Orchestra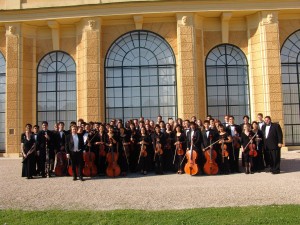 What a pleasure it was to conduct my orchestra in top professional level venues with great audiences in five of the world's greatest cities – Rome, Florence, Venice, Salzburg and Vienna. I really appreciate MCI's professional way of working with orchestras and providing us with the best possible concert tour. To any conductor, most important is the music and the performance experience. In this area MCI excels! You have top professionals arranging the venues, promoting the concerts, and providing the best performance experiences possible with the highest regard to professional standards.I look forward to working with you on future tours and I recommend that fine music organizations across the country also arrange their next tour with MCI.
Get Started with a No Obligation Quote